Since our establishment in 1979, we have been leading the chemical industry's R&D in developing petrochemical products. Continuous investments in core technologies of IT and electronic materials and lithium-ion batteries have led to the current reputation as a successful private R&D institution. We have competently commercialized innovative products for high-tech industry through vigorous R&D activities, thereby contributing to the rapid growth of such industries in Korea. As a result, we have contributed, and are still contributing, to the consolidation of national competitiveness and the economic growth of Korea with our proprietary technologies.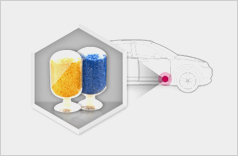 Basic Materials & Chemicals
LG Chem was the first to commercialized ABS resins in Korea with a production capacity of 5,000ton per year in 1978. Since that beginning of the ABS business, it has increased the production capacity to 1.6 million tons per year while concurrently improving the product quality. Several grades of ABS products including heat-resistant ABS, transparent ABS, and high-gloss ABS, have been newly introduced at the time. LG Chem's proprietary ABS technology, acknowledged for its technical excellence in the Korean chemical industry, has been licensed to Chinese companies called LGYX and CHOOC. LG Chem has increased its market share in the Basic Materials & Chemicals industry supported by the core technologies on polybutadiene fast reaction and ABS grafting. Development of novel catalysts and proprietary processes has improved the competitiveness of LG Chem's principal products in terms of price and quality and has allowed providing high-value added premium products.

Within the polyolefin products sector, LG Chem has independently developed metallocene catalysts that precisely control the molecular structure, weight distribution, and density of the products. The breakthrough enabled the company to transform its then simple business structure into an advanced one, with a strong emphasis on premium polyolefin products with specialized properties. LG Chem have supplied these polyolefin products for water supply polyethylene pipes since 2007, , polyolefin elastomers since 2008, metallocene LLDPEs and high tenacity polyethylene fibers since 2009, and metallocene-based very low density plastomers with higher low-temperature sealing strength for film and coating applications since 2012. Recently LG Chem has developed the first single-catalyst-olefin block copolymers are preparing for the commercialization. During the process of product development, LG Chem utilizes simulation technologies to enhance product competitiveness by maximizing production capacity through process optimization, enhancing the company's cost competitiveness through energy reduction, and introducing new processes.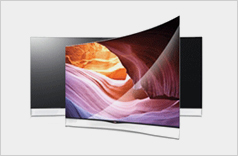 IT&E Materials
LG Chem separated the IT&E Materials sector from the traditional petrochemical business as a new growth engine in the mid-1990s with a thorough planning for R&D, commercialization, and business. As a result, LG Chem has become the company with the largest market share in LCD polarizers and the second largest market share in photosensitive materials, markets of which were previously dominated by a Japanese company. Materials for optical films, electronics and secondary batteries were developed and commercialized as well. Korea has become globally renowned for its advancements in IT industries such as display and mobile phones with a strong competitiveness in the related technologies. In 2010, we have successfully developed the first FPRs (Film Patterned Retarders) that may realize 3D TVs that use polarized glasses thus allowing a convenient and inexpensive production of 3D TVs. Currently, we actively carry out OLED light business with our accumulated research competitiveness for OLED materials.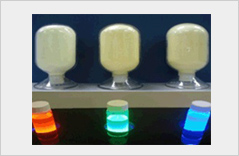 Advanced Materials
To develop innovative materials of a sustainable performance for use in the display industry, various research projects are in progress. Mainly LG Chem is focusing on areas including color filters for LCDs, OLED materials and flexible substrate materials. Besides, materials for LED, OLED lighting and cathode of battery have secured their technical advantage. For Next Generation Display, we have been noted as a world leader by securing core materials for OLED display. LG Chem is a leading provider of core materials for use in OLED displays which are considered the next generation display.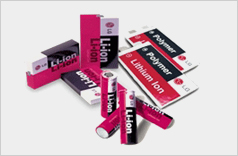 Battery
Battery R&D has made outstanding achievements in applications for mobile, xEV, and energy storage systems with superiority in technology since 1996. For mobile applications LG Chem R&D has fully developed the following products in 2013: 1) Stepped batteries with increased energy capacity achieved by space optimization specifically for IT gadgets, 2) curved batteries specially designed for curved IT devices, and 3) wire batteries that may be bent or twisted without a loss in performance uniquely developed for wearable devices. For xEVs, R&D has continuously focused on establishing an expertise in product development especially in materials, cells, packs, and BMSs. As a result, LG Chem was endorsed as a provider of batteries for GM Volt in 2009 and signed contracts with 20 global auto makers including Renault, Hyundai-Kia Motors. in 2014. Presently, the technology for xEV applications of LG Chem battery R&D is definitely recognized as the best in the market. With energy storage systems, LG Chem has participated in large projects in North America and Europe including the SCE project (smart grid in North America). Additionally, LG Chem signed contracts with SMA and IBC Solar for energy storage applications at home and factory and with LG U+ and Softbank for UPS and IDC. Many business partners show a great interest in energy storage systems, illustrating an outstanding capability of LG Chem battery R&D.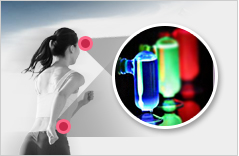 Platform Technology/New Business
(Corporate R&D)
Corporate R&D is trying to be the world best institute possessing a firm global leadership through product development technology and acquisition of next generation business along with improved competitiveness of the current business through enhancement and collaboration of platform technology.  

Korea is taking the lead of the display market, which was traditionally led by Japanese companies with exclusive skills in adhesion and coatings skills from Black box technology of polarizer which is the core part of LCD. Also, Corporate R&D accomplished Korea's self-supporting process design technology by applying divided wall column to variety of petrochemical process. Especially, Corporate R&D laid the technological foundation resulting in the best effect for the least amount of investment by efficiently reducing the energy consumption of distillation process which uses the most petrochemical energy. Like so, we are trying to retain the competitiveness of current business by continuously strengthening the core platform technology such as adhesion/adhesive, coating, process technology, simulation and analytical technology.  

Water blocking technology is required to obtain a longer lifespan and better performance of OLED devices. Corporate R&D contributed to the release of world's first 55-inch OLED TV by developing the world's first FSA(Face Seal Adhesive) which concurrently implement water absorbent, device stiffness, and heat radiation with our core platform technology in adhesion/adhesives. Also, the FSA will be applied to flexible OLEDs in the near future. Like this, we are discovering/promoting the future business opportunity with the active research development focused on new/renewable energy, eco-friendly material, next generation display material and etc. Particularly, we are trying to obtain the core technology that helps us maintain our competitive advantage.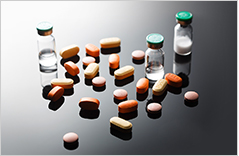 Life Sciences
LG Chem's Life Sciences R&D has been on the leading edge of research development in Korean pharmaceutical industry for the past 30 years. Life Sciences R&D was established in 1981 as the first for-profit research institute for genetic engineering in Korea. It has grown to a global R&D institute through persistent R&D investments and with strategic alliances with global leading pharmaceutical companies. Consequently, Life Sciences R&D launched numerous biopharmaceutical products including the genetic engineering product "InterMax Gamma" (1984) and the human growth hormone "Eutropin" (1993) for the first time in Korea. Notably, the quinolone antibiotic "Facitve" launched in 2003 obtained U.S. FDA Approval, leading Korea to become the 10th new drug development country in the world. More recently, Life Sciences R&D launched Korea's first diabetes treatment "Zemiglo" (2012) and subsequently launched the five-in-one vaccine "Eupenta" (2016), which was prequalified by the World Health Organization (WHO) in 2016 and selected as the major vaccine in the global bidding market for UN agencies.  

LG Chem Life Sciences R&D will accelerate its future growth and presence in the global market for vaccines, biosimilars and other biological drugs through the innovative drug development over the proven history of expertise in biopharmaceuticals.